Link exchange between sites of same niche is valid and accepted way of site promotion with some search engine benefits. However, the requests for such link exchange go wrong sometimes. On New Years Eve I got such a request that I would like to share.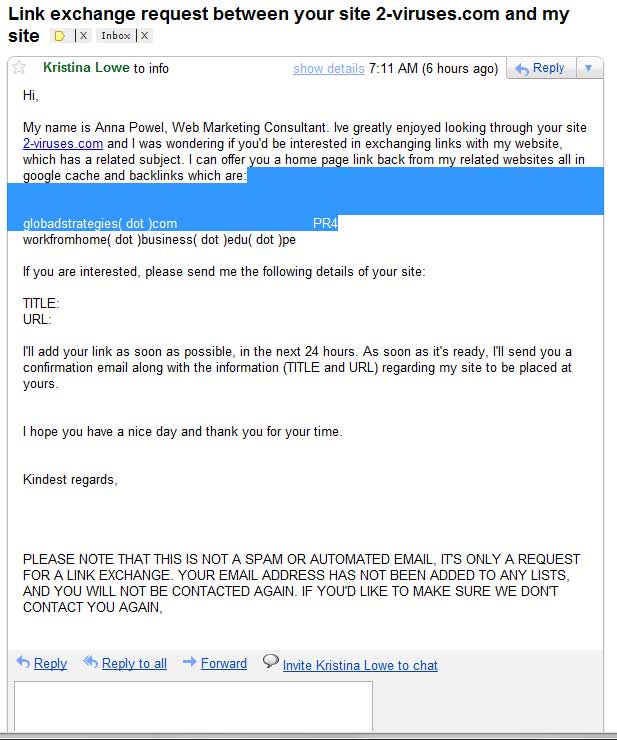 Now what is wrong with this letter? I would say EVERYTHING.
Firstly, it is obvious, that the sender is using automated or half-automated messages. It is obviously a template letter. I strongly doubt they have seen my site as they haven't shared anything about it. There is no motivation to add a link.
Next, even without looking at the sites, I can spot a lie – our site niches are not related. This means that there are not only no use for me, but one would likely to get a penalty for linking to unrelated sites.
Third, a small detail. The names of sender does not match the ones in message header. This is one more proof of automated scheme.
Fourth: if you are sending non-automated message, do not add a line "if you do not want being contacted again"… Thats smells like automated message.
Thus, it is clear that these 2 sites, hxxp://globadstrategies.com and hxxp://workfromhome.business.edu.pe are promoted by trying to get any link, not only related one.
How to do it right way? Do some research, people. Talk with the people behind related, however non-competing websites.