I was in Hurghada (Egypt) for a week and i have to tell that it was fabulous. Both the resort and country have surpased my expectations and washed out all the thoughts about the work.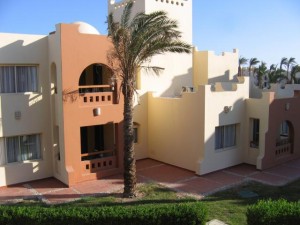 I have stayed in Sunrise Royal Markadi hotel, 30 kilometres from Hurghada. Hurghada itself was a small fishing village 30 years ago, but now it is one of the most popular holiday locations in Egypt. The Markadi bay is famous for its diving location and I have an impression that the hotels there are bigger, calmer and, perhaps, even better than in Hurghada itself. The downside – you will need to fetch a transportation till Hurghada itself if you want go shoping. That is not very costly – around 7 Eur both ways using hotels bus. 
Sunrise Royal Markadi Hotel is part of bigger Egyptian chain, and is a quite big one. It is located directly near the ocean and the beach is fantastic and clean. It is not steep and even small children can swim without big problems or risks. There are couple of pools as well, all supervised by staff. There is a horse and camel riding facilities, diving center, masage, gym, couple of shops and restorans (free for us) as well. 
The hotel and the whole Markadi is guarded, both by official Egyptian army and the hotel staff. There are no incidents in the middle of Egypt though – no Egyptian would cut the income, as majority is one way or another connected to the tourism. For aditional security, all the time went out of secured tourist zones to the tours (e.g to Caire or Luxor) , we got a convoy of soldiers.  
Overall, staff in this hotel is very helpful and much nicer than in hotel in Turkey I was last year. Lots of things were inclusive in the package, so we did not needed to pay for drinks or food. The food is quite ok too. As they have to feed a crowd of turists that stay there, it is better than expected and almost perfect. There is no limits of food amount you can take during any of the meal. I can recomend this hotel to any person that needs to relax with or without their family or kids. Probably this is not the last time I stay there.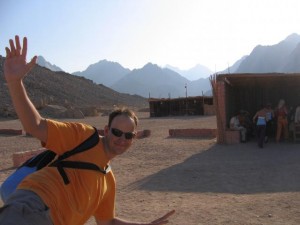 However, I am not so sure I will go through Tez Tour next time. They provided quite good transportation service from and to airport, however they got a problems due to companies size. Tez tour is quite big company and targets Russia mostly, so all excess Lithuanian people will be shuffled to Russian language tours with guides that lack experience. The biggest disappointment was the travel to Caire, as we got to travel with Russian group. The guides were Egyptian and we were always late. We returned to Hurghada an hour later than expected and without any convoy which is unacceptable and unprofessional. The Lithuanian-led tour to Luxor was much much nicer. 
Also I would not recommend going from Hurghada to Caire at all. You spend the majority of the time in bus, as you need to drive for 8 hours to get there. An alternative would be taking plane to Caire instead traveling by bus, but is Pyramids, Sphinx and short visit to museum and couple shops worth it ? I am not so sure.  We were much more happy with the shorter, but much more interesting visit to Luxor (former Thebes, capital of New Egyptian Kingdom). 
Overall, I liked the visit to Hurghada very much and I would like to come there again. My plans are to take a cruise in Nile and try out diving there.