So, I am married man. That thought still has to sink to me fully, but I am perfectly happy with that. The marriage commenced at 29th of May in the circle of family and friends in Kaunas, my hometown. Everything was perfect, including the fakir show in middle of the night, which was our surprise to the guests. We would like to thank "Ugnies ratas" for spectacular performance.
2 days after ceremony we left for the portugal with a pair of our friends. That was a honeymoon trip for us all, although they have waited for 9 months for us!. The trip was great, we made around 2700 km with a car there.
We flew to Porto, a bigger city in the Portugal north. The narrow cobblestone streets, lots of churches, great meals and very nice, helpful people: that was our first impression of the country. We started by visiting Porto itself and some neighborhood cities like Lamegos and Amarante.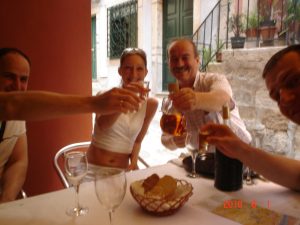 Here is a photo of us in unknown restaurant in Sao Nicolaus, Porto.
After Porto we went to Praia de Mira – a nice resort close at the coast of ocean. Due to weather we could not enjoy the beaches, but the food there was great. We still remember the largest plate of seafood we ate at "Polar" and perfectly made Grilled Sea Bass for two at another place which name I can not recall. During that stay we visited Coimbra first time, a student town and a former capital of Portugal. That was a place we liked most in the whole Portugal and it is perfect city for buying gifts for family and friends. I can recommend restaurant Restaurante Praca Velha there, for perfect service and very tasty steak.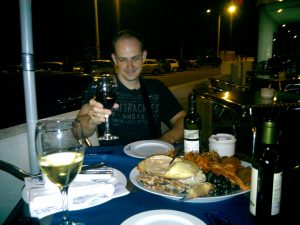 The next hotel was in Peniche – a nice resort for surfing and resting. The weather was much better than in Mira, and we had a very nice company there. Although we had not seen much of Peniche itself, we visited Obidos, old Roman road (twice!) and some other points from it.
Lisabon. There we had an apartment in the center of the city. The parking was terrible, but the place was in one of the main pedestrian streets. Everything was close by: the Cathedral, other historical churches. We visited sea park with aquarium there, which is one of the biggest in Europe. Sadly, the food in Lisabon is terrible, but I can recommend driving to Cascais and eating at Apeadeiro ( Avenida Vasco de Gama 252) – one of the most pleasant places during whole trip.
The last stop was Portimao – a town in the very south of Portugal. It was one of the longest trips as we have visited Evora on the same day. We were promised a bath there by my wife, however we found out that this particular bath was not used since roman times.
The south of portugal is quite different from the rest of it: cleaner, spacer and less more modern. The last apartment was located 100 meters from the ocean so we spend a lot of time enjoying sunshine and beach. It was perfect place to rest and enjoy the weather of Algarve. We had a mad ride on the boat in ocean from Lagos – the watter caves are great, and the boat captains are fearless.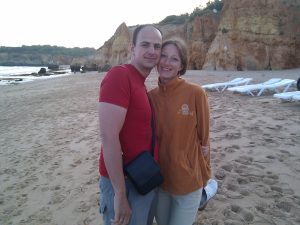 I am really happy with everything concerning my marriage and trip, although it is kind of good to be back and start implementing new ideas again.