Today I got chance to download Skype for Android. Although it was available for Verizon users in USA, most of us could not enjoy it. We had to resort to Fring or Nimbuzz. Although both of these are good chat programs, they worked not so well with Skype.
The interface of program is really nice, though termination of program could be made simpler. I use skype as chat program mostly, so I am not so fond about its calling feature integration with phone dialer, though it might be useful for me later on. I appreciate the profile synchronization options, as you can synchronize important contacts only.
What surprised me is the way skype synchronizes chats between my PC and the Android device. I see what I send on both of devices which is very useful for me. I might want to check the logs or check the links that were sent to me.
I liked the new chat interface too, which reminds of some SMS messaging apps. Here a screenshot, sorry for the quality: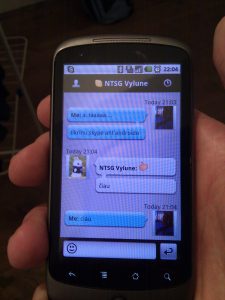 Overall, I am planning on disabling Skype chat on my Nimbuzz program, as I see no more reason to use third party applications for that. You can download and try it yourself, just search for skype in the Android market.