System Progressive Protection is not a new parasite – we wrote about it on September this year. However, its infections reached the peak only recently and it is the most distributed rogue antivirus at the moment. Although in some parts of Europe it competes with ransomware, System Progressive virus is distributed world-wide and is one of the most annoying parasites at the moment. This is due to the fact that its makers have enough of affiliates and enough capacity to collect the payments from the victims.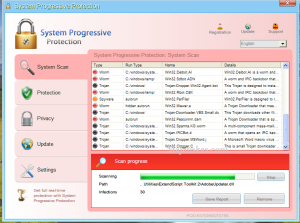 Due to large amount of rogue affiliates, the way one gets infected might vary. Some ways are listed below:
Poisoned Images in image search. You click on and image and end up downloading rogue antivirus instead.
Fake scanner pages. Yes, people still believe that some magical antivirus might be able to scan one's PC without your consent from the web.
Exploit pages that install parasites through JAVA or Adobe security holes ( Have you updated your Adobe reader recently? )
Fake download sites.
ETC.
And the worst thing is that once you are infected there is very little you can do as System Progressive Protection will stop almost all programs from running. To disable and remove the rogue couple tricks might work though.
For System Progressive Protection removal I recommend following:
Open browser on infected PC.
Enter line http://www.majauskas.com/downloads/spyhunter. Click allow, and download. If you want, download additional antimalware programs or antivirus that way, but wait before launching them.
Rename executable to .com from exe and run. In many cases Spyhunter will kill the malware process automatically. This is extremely useful, but there are some additional hidden settings that might relaunch System Progressive Virus again. Thus I recommend scanning and deleting malware files as soon as possible after that. At this point other tools might be useful, but Spyhunter handles it quite well.
Note, that it is nearly impossible to kill malware process with tools existing in windows system, so you will have to use extra programs or use some OS scanner running from CD.

We have written about System Progressive Protection parasite in the past on 2-viruses.com. The guide still applies.